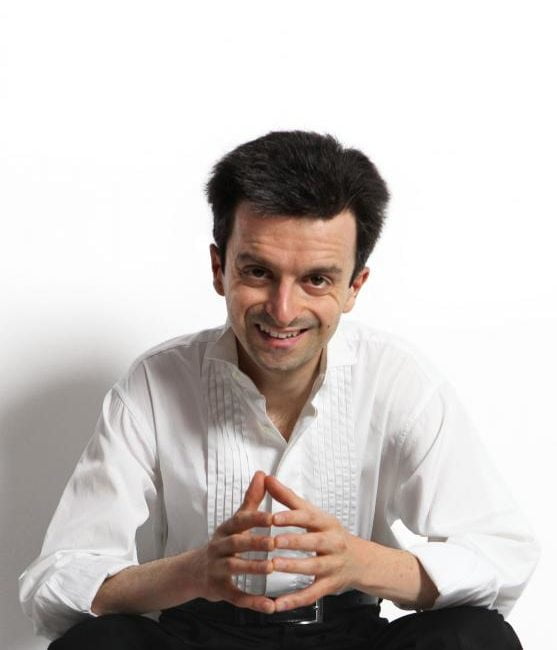 Nato nel 1977, ancora giovanissimo Andrea Bacchetti ha raccolto i consigli di Karajan, Magaloff, Berio, Horszowski, Siciliani. Debutta a undici anni nella Sala Verdi di Milano, con i Solisti Veneti diretti da Scimone. Da allora suona più volte in festival internazionali quali Lucerna, Salisburgo, Belgrado, Santander, Tolosa (Piano aux Jacobins), Lugano, Sapporo, Brescia e Bergamo, Bologna, Roma (Uto Ughi per Roma), La Roque d'Anteron (Radio France), Milano (MI.TO), La Coruna (Festival Mozart), Pesaro, Cervo, Bellinzona, Ravenna, Ravello, Santiago de Compostela (cicle de Piano A. Brage), Varsavia (Beethoven Festival), Parigi (La Serre d'auteil), Bad Worishofen, Spoleto, Husum, Murten Classics. E presso prestigiosi centri musicali: Konzerthaus (Berlino); Salle Pleyel, Salle Gaveau, ciclo piano 4**** (Parigi); Rudolfinum Dvorak Hall (Praga); Teatro Coliseo (Buenos Aires); Rachmaninoff Saal, The Moscow State Philarmonic Society (Mosca); Arts Center (Seoul); Auditorium Nacional de Espana (ciclo di Scherzo e CNDM), Teatro Real, Teatro Monumental, Fundacion March (Madrid); Foundacion Goulbenkian (Lisbona); Hamarikyu Asahi Hall, Toppan Hall e Musaschino Concert Hall (Tokyo), De Warande, (Anversa); Mozarteum Brasileiro e Cultura Artistica (San Paolo); Parco della Musica (Roma); Zentrum Paul Klee (Berna); Gewandthaus (Lipsia). In Italia è stato ospite delle maggiori orchestre ed enti lirici, nonché di tutte le più importanti associazioni concertistiche.
All'estero ha lavorato con numerose orchestre (Lucerne Festival Strings, Camerata Salzburg e Salzburg Chamber Soloists, RTVE Madrid, Sinfonica de Asturia, Oviedo, OSCYL, Valladolid; ORF, Vienna, MDR Lipsia, Kyoto Simphony Orchestra, Sinfonica di Tenerife, Filarmonica della Scala, OSNR Torino, Sinfonica dell'estado del Mexico, RTL Lubiana, Cappella Istropolitana, Bratislava, Russian Chamber Philarmonic St. Petersburg, Dubrovnik Symphony Orchestra, Philarmonique de Nice, Prague Chamber Orchestra, ORF Vienna, Filarmonica Toscanini di Parma, Philarmonie der Nationen, Amburgo, Enesco Philarmonic di Bucarest, con direttori come Bellugi, Guidarini, Venzago, Luisi, Zedda, Manacorda, Panni, Burybayev, Pehlivanian, Gullberg Jensen, Nanut, Lu Ja, Justus Frantz, Baungartner, Valdes, Renes, Bender, Bisanti, Ceccato, solo per citarne alcuni.
Incide in esclusiva per Sony Classical e fra la sua ampia discografia sono da ricordare il SACD con le sonate di Cherubini (Penguin Guide UK,Rosette 2010), The Scarlatti Restored Manuscript (RCA Red Seal) che è risultato vincitore dell'ICMA 2014 nella categoria "Baroque Instrumental". Di Bach le Invenzioni e Sinfonie (CD del mese della BBC Music Magazine – Settembre 2009 e The Italian Bach (CD del mese della rivista giapponese Record Geijutsu, maggio 2014). Si dedica con passione alla musica da camera. Proficue sono le collaborazioni con partner come R. Filippini, il Prazak Quartet, Uto Ughi, con il quale ha recentemente (marzo 2018) registrato per Sony il CD Note D'Europa, Maxence Larrieu, Antonella Ruggero, da ricordare il CD La Vita Imprevedibile delle canzoni, Quatour Ysaye. Compositori come Vacchi, Boccadoro, Del Corno, fra gli altri, gli hanno dedicato brani. Nelle utlime stagioni ha tenuto concerti in Spagna, Messico, Cuba, Corea, Svizzera, Polonia, Belgio, Russia, Giappone (in tournée con la Tokyo Symphony Orchestra), Corea, Spagna, Germania (Monaco, Herkules Saal), Svizzera (Lugano,con la OSI, Orchestra della Svizzera Italiana). Nel giugno 2018 pubblica il CD Andrea Bacchetti Live at Teatro Carlo Felice Genova, conductor Fabio Luisi.